Drones in Grazier's Hellfire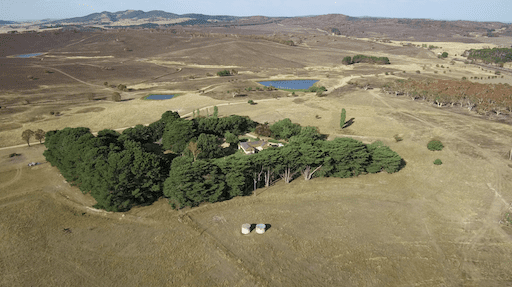 The town of Bungendore, set in a scenic green valley in the New South Wales southern tablelands, is an important crossroads linking Goulburn, Braidwood, Queanbeyan, Canberra and Cooma.
Nearby Mount Fairy is home to graziers whose cattle and sheep roam large tracts of farmland and a wind farm powered by the prevailing winds that careen through the valley.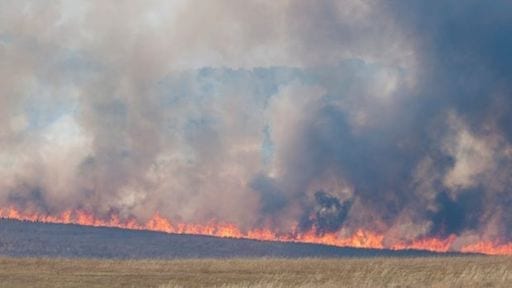 Currandooley Fire burns out of control.
On 17 January  the Goulburn Post reported that 2,500 hectares of farmland had been wiped out by a huge and raging grass fire, with more than 30 units from the Southern Tablelands, Lake George and ACT zones called on to join the fight.
The fire had jumped two roads, Bungendore Road and Mount Fairy Road, reaching Tim de Mestre's property, Merigan. Volunteers who heard of his plight moved quickly to help upon news that 88% of his 900 hectare property had been decimated.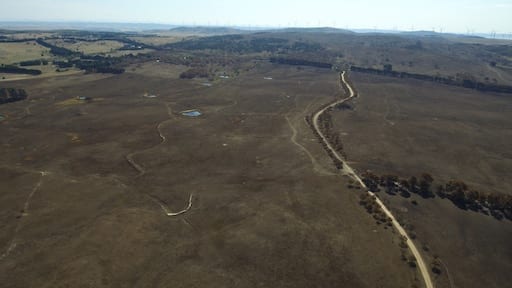 Merigan Driveway.
Many of the livestock had been badly injured, with burned hooves, lips and teats. The pretty tree-lined driveway leading to the homestead had been destroyed, but thanks to the efforts of valiant firefighters the house had been saved and no lives had been lost.
Many of the surviving cattle and sheep were able to be moved and Tim and his band of hardy volunteers wasted no time in starting to clean up the mess. Fixing fences, removing debris, getting much-needed water to the right places and keeping the troops going through the early days was a huge challenge.
When we arrived a few days later we found him lying on the floor, unshaven and utterly exhausted, but resolute. Aerial imagery would be useful for assessing the scope of the damage, so we quickly got to work with Tim's son, Darcy, as our guide.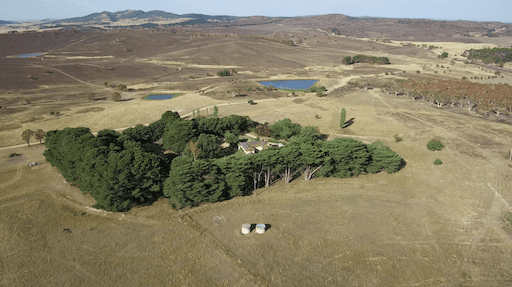 Merigan homestead was saved by aerial firefighters.
Shooting with the Inspire One Quadcopter and Z3 zoom camera we were aiming to get the big picture as well as zero in on particular areas which warranted further examination. Up at 400 feet, we had a clear view of the property but the winds were stiff and even stronger higher up.
To the West of the front gate the nearby windfarm turbines spun at an increasingly furious rate and the drone  struggled to maintain position as the wind speed picked up to over 25 knots, well above the safe upper limit for operation.
Unable to fly, we returned to our base at Tree Change Cottage, further down Mount Fairy Road, where owner Anne Fairhurst and her 89-year-old mother, Ida, had also survived unscathed . Airbnb had lead us to an oasis where we could re-charge the batteries and regroup. Like Merigan, the house had been saved but everything around was burned to a cinder.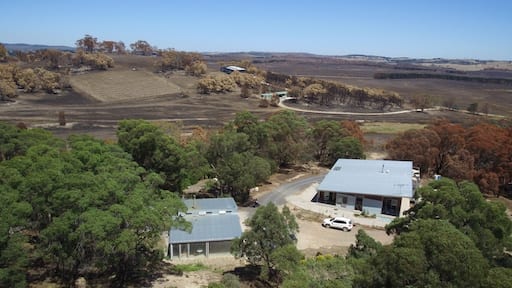 Tree Change Cottage.
When we arrived we found Anne putting out water for the surviving wildlife which clung to the few small patches of green visible from the cottage.  She was effusive about the strength of the local people and what needed to be done to restore the land.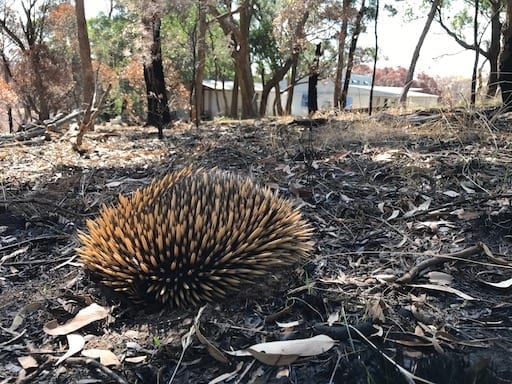 An Echidna waddled along nearby, but thankfully there was no sign of the local tiger snakes.
Anne's mother, Ida,  had been out in town that morning and was lucky to have missed the whole thing.   She pointed out that their structures had been made from metal rather than timber as a protective measure against this sort of catastrophe.  Our flying robot was certainly a surprise for her!  Watching with keen interest, she had many questions about how it worked and what it could do.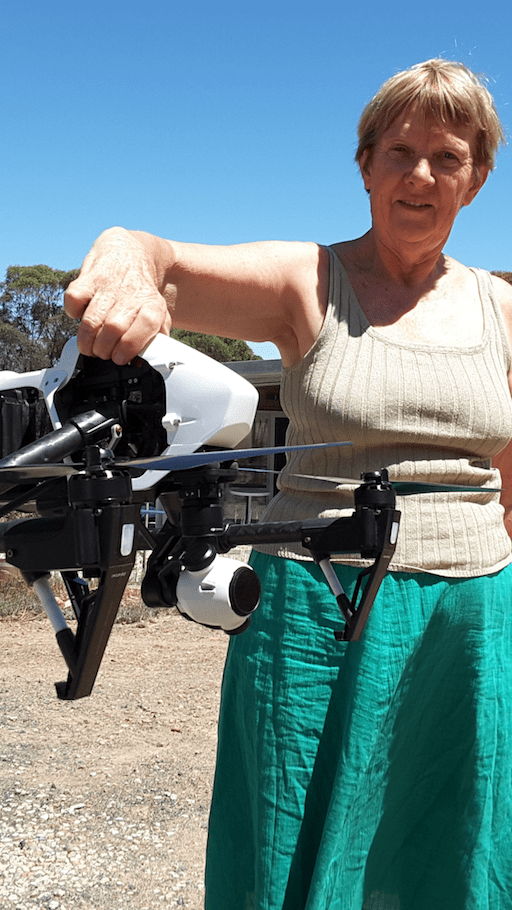 Anne Fairhurst
As the winds abated we were able to get airborne at Tim's place once again. Moving to five different locations in the property, we shot 360 degree views of the devastation from 120m, which is the maximum altitude permitted under CASA UAV regulations.  We later enjoyed a cheerful dinner with our hosts before returning to the cottage for the night. We were able to pass on the Fairhurst's contact details at Tim's request, who offered to connect Anne with local services organisations who could render further assistance. It was so great to see the Aussie spirit alive and well in the face of such brutal adversity.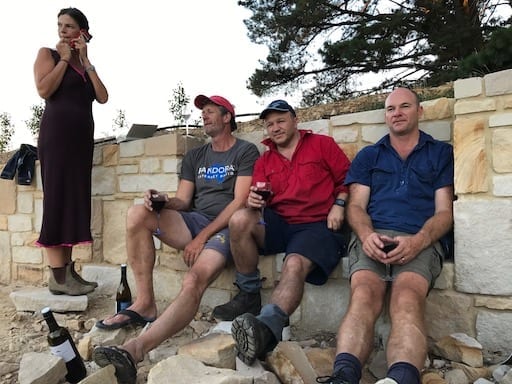 Tim De Mestre and volunteers winding down after a long, hard day's work.
Tim sent out a heartfelt thank you to all who were able to assist and was optimistic about finding answers to the cause of the blaze. "According to one theory a bird had shorted an electrical wire, caught fire and fallen into the dry grass below.  It isn't the first time." he said.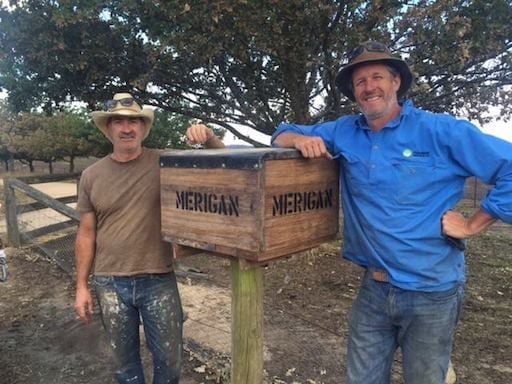 Tim De Mestre (right).
The fire is now likely to be the subject of a coronal inquiry. Goulburn MP Pru Goward wrote "Following my meeting with Tim de Mestre I have written to the Attorney General…I am now seeking a coronial inquiry in the absence of any other means of establishing a full, independent and transparent inquiry. There is a history of fires and bird deaths in the area that probably need to be part of this inquiry. I consider the matter to be urgent."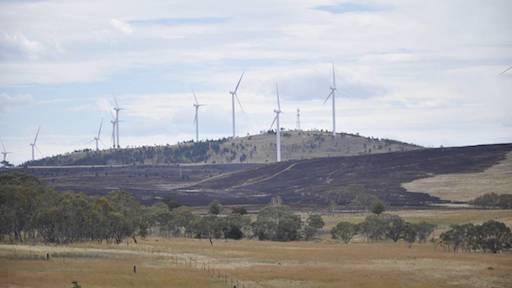 Windfarm to the West.
Update on this story: September 2020