Drones in Macadamia Heaven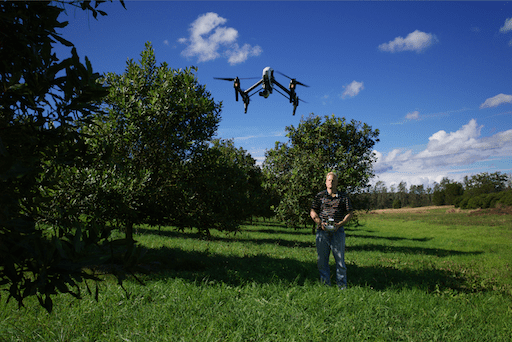 In 2016 the Australian macadamia industry is in the best of times. Long periods of dry weather in the majority of growing regions has resulted in ideal harvest conditions for most growers. Production is up 4% (Source), prices are high, demand is strong and the time is right for investment & innovation to further improve quality, yield and profitability.
Technology is also driving the pace of change in agriculture at an unimaginably rapid rate. The way farms are managed will surely be very different in two, five and ten years from now thanks to advances in precision agriculture.  In fact it is already happening here in NSW.
Farm Manager Chris Cook from Dymocks Arapala Macadamia Farms at Yarrahappini is one of the new generation of young, tech-savvy managers who is taking things to the next level. Chris has made significant progress by pioneering several innovative approaches, including Unmanned Aerial Vehicles (UAVs or Drones) as part of an integrated orchard management strategy.
His deep belly laugh belies a razor sharp eye and a relentless pursuit of results based on carefully crafted plans and consistent execution.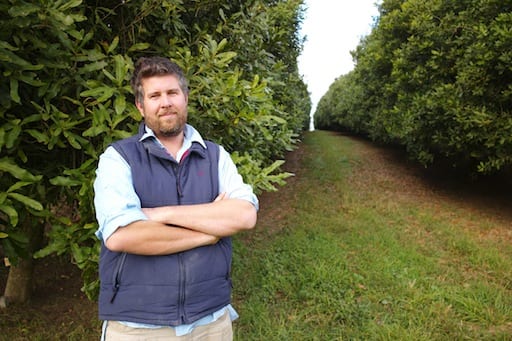 Chris Cook, Farm Manager, Dymocks Arapala Macadamia Farms.
When Chris took over the 70,000 tree orchard two years ago he had challenges to improve the health of the older trees in the plantation. Average Nut in Shell (NIS) from the mature trees was down around 2.5 tonnes per hectare, compared with an industry target of 5 tonnes per Hectare.
His aim is to get the average yield up over 5 tonnes per hectare of NIS.  In some blocks he and his dedicated team are already hitting 6 tonnes due to changes made in the past two years.  Being a radio-controlled helicopter enthusiast from way back, Chris clearly sees the potential of drones in agriculture and was very receptive when I approached him 18 months ago.
"We started out with a small consumer drone just shooting basic video from the air, and over time scaled up to a larger commercial drone with an autonomous flight program capturing still images.  These images could then be stitched together into a Geo-referenced "Orthomosaic" to give us a much clearer view of problems and patterns not obvious from the ground. We could also use these images to plan and communicate workflows with the team." – Chris Cook.
The Author piloting the DJI Inspire 1. Photography Credit Wade Hughes.
While impressive at first blush, the software platform for flying the drone autonomously, capturing the data and stitching images together had many problems. We spent months working through the issues with the vendor before eventually being able to deliver high-quality maps which were really useful for making decisions.
Several Macadamia growers in the NSW Northern Rivers district heard about the work we were doing and were interested to participate. In one week in April we flew six farms totaling more than 500 Hectares, generating some 40 maps, which gave the farmers a whole new view of their orchards.
"Thank you for your efforts in surveying our farm. The resulting data is very impressive.  It has enabled me to see the extent of damage done to our orchard in the 2012 storms and in the next pruning season I will be able to undertake more targeted pruning operations, dealing with issues in a more focused way.   Overall I feel that this has been a positive result for the financial outlay."
-Rob Colefax.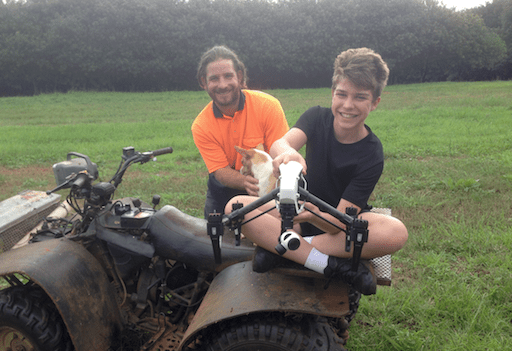 Macadamia grower Rob Colefax & son.
In addition to high resolution orthomosaics, 3-D elevation maps provide a way to clearly assess drainage issues and come up with solutions.  An adjustable scale allows different colour gradations to be applied to the image to show relief in dramatic detail.  Several growers and interested agronomists commented that the ability to zoom in and switch between views of a block, back and forth, was particularly powerful.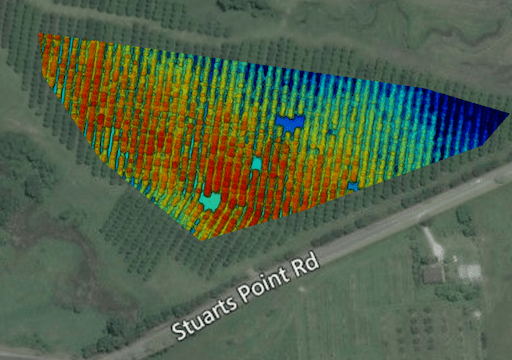 For Chris Cook, the imagery has been particularly valuable in developing nutrition plans and in digging new drainage channels.  Here's an excerpt from the latest management plan;
Diversion drains [blue triangles] and subsurface drainage [red boxes] will be installed to mitigate damage from rain events. Diversion drains guide water away from the block without causing losses to crop. Subsurface drains are to prevent waterlogging, allowing trees to grow, and machinery access quicker after an event.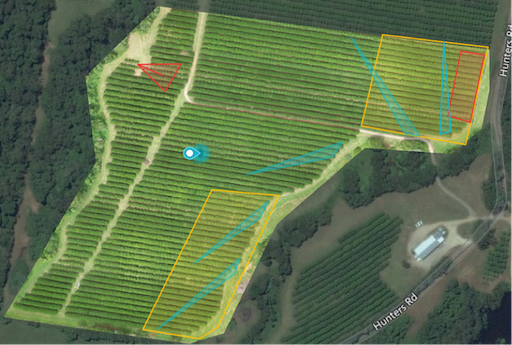 Being able to see the big picture is one of the great advantages of this new approach. Using special digital filters and indexes also allows farmers to see the unseen, such as disease or levels of plant vigour and trends within the orchard. Variations in the amount of solar radiation reflected, absorbed or transmitted by vegetation provides a strong indicator of tree health.
The Normalized Difference Vegetation Index (NDVI) is a measure which has been used with satellite imagery and we were able to try using this filter with the image data we had captured. However, as the drone was not equipped with a camera with Near Infrared (NIR) capacity, a pseudo NDVI was derived from reflectance data measured by the Green and Red spectral bands.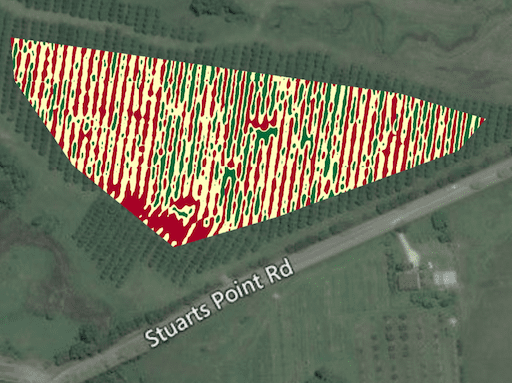 While the pseudo NDVI could indeed show variances in tree vigour, which prompted Chris to ask new questions he hadn't thought to ask previously, we soon discovered the limits of the Red Green Blue data (RGB) used in standard photography.  While RGB is very good for producing high-resolution orthomosaic visual images, elevation maps and 3-D models it is limited in its ability to enable detailed and accurate analysis of plant health using reflected light. That is because the RGB camera we used is only able to capture a small percentage of the solar radiation reflected from tree canopies compared to Near Infrared cameras. To get more accurate and detailed information with NDVI we needed a different kind of camera – a multispectral sensor which detect a range of infrared light spectra as well as RGB.
Associate Professor Andrew Robson (University of New England) is one of the leading researchers in the field and I had the opportunity to meet with him in June this year.  He is currently leading a National Tree Project funded by Horticulture Innovation Australia and the Federal Government's Rural Research and Development for Profit scheme. Andrew was able to recommend some innovative new sensors which can easily be fitted to our UAV, the DJI Inspire 1.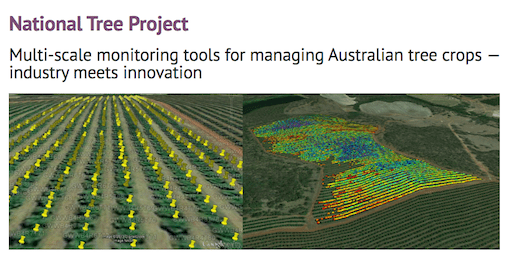 He also invited me to participate with the UNE project team to fly some surveys with the multi-spectral sensors over Macadamia orchard blocks.  This collaboration will allow the UAV imagery to be evaluated alongside a range of other satellite and field based sensors to identify its capacity for future commercialisation. This includes the evaluation of specific yield and quality algorithms that have the ability to convert the imagery into real parameters that growers can easily use.
Looking forward, our UAV platform is one of the first to be compatible with the industry leading FLIR thermal camera system, which is opening up exciting new applications in asset inspection, search and rescue, firefighting and other areas. For agriculture the big advantage of these sensors is in detecting disease – plants heat up when they are stressed.  It's not hard to imagine a future where the orchard is managed down to the tree, instead of the block, using customizable development platforms like the DJI Matrice 100 Quadcopter.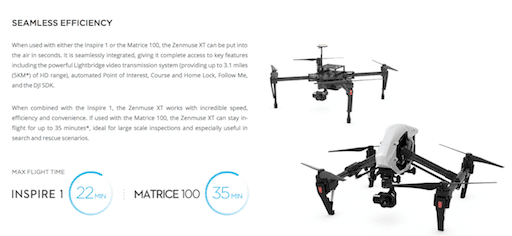 For now, Chris is focused on finishing the harvest by the end of August, a full three months ahead of average harvest time over the last few years.  Apart from improving drainage he's also using aerial imagery for guiding the nutrition plan as part of the integrated orchard management (IOM) strategy.
Chris: "We have drains in some of our steeper gullies that are fully grassed, that do a great job moving water away from the orchard quickly. The different management zones along with aerial imaging of the farm will form my new soil test and leaf sampling zone [previously done block by block]. For the farm's nutrition program, Integrated Orchard Management (IOM) is very important, but I need to have a solid science based, nutrition program. The program should take into account previous seasons yield, the amount of compost or organic matter you have used in IOM program, and different soils types within your farm. I am currently doing a thorough soil map of the farm so I can fine-tune the nutrition requirements."
In closing, I believe every grower can benefit from this technology, especially those with larger orchards where it is prohibitively time consuming to inspect the every block on the ground regularly.
Please call for an obligation free quote on 0431 770 620.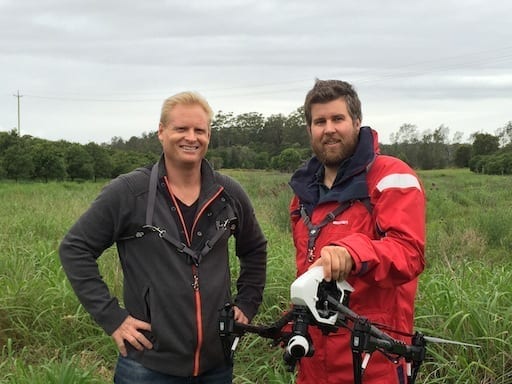 Andrew Forsyth
Managing Director, UAV Data Solutions.