Hilti Video October 2014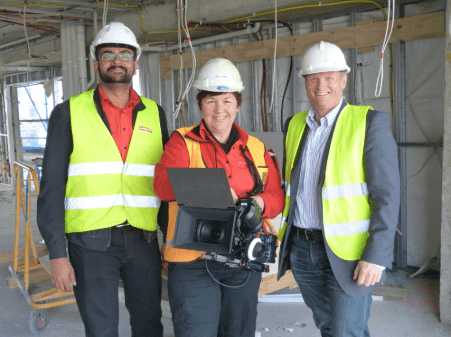 We had the pleasure of working with MD Jan Pacas, Anne Adamson & the extended team at Hilti for their latest internal video and wow do they have some serious hardware which simply blew us away.
Hilti jackhammers have effective vacuum cleaners attached to reduce dust exposure and drillbits with hollow tubes to suck the dust out as they drill holes, and they have scanners revealing steel bars through concrete! Pretty amazing stuff.
We saw firsthand the innovative solutions the company provides to speed up construction projects with the safety and reliability the brand is famous for.  Shooting with the new Sony F-5, Andy Grant and Morgan Burrett successfully captured the emotion the management team was seeking, with some spectacular locations and dramatic shots of the Hilti team in full flight.  Ann Foo did a super job with the edit, proving once again she can deliver no matter what curve-balls come her way.
All in all a great success and a lot of fun working with the folks at Hilti to bring their vision to life.
-Andrew Forsyth